The Rodon Group is an ISO 9001:2015 cvertified landfill-free plastic injection molding manufacturer. Since 1956 The Rodon Group makes billions of parts each year in its 125,000 square foot facility in Hatfield, PA. Plastic injection molding uses two different mold types: cold runner and hot runner. Each type has its benefits and drawbacks. The experts at The Rodon Group will help you determine which method is best for your project.
Cold Runner Molds
The mold base of a cold runner mold typically has two or three plates held within it. Plastic is injected into the mold using a sprue. This plastic fills up the runners and travels into the mold cavity.
In two-plate cold runner molds, the runner system is attached to the mold, and an ejection system is in place to separate them.
In three-plate cold runner molds, the runner is separated on its own plate, so only the finished part will be ejected.
In both two- and three-plate cold runner systems, these runners can be reground and recycled. This process increases overall cycle times but also reduces plastic waste.
Advantages of cold runner molds include:
Cost-effective
Low maintenance costs
Can use many different polymer resin types
Engineered or commodity
Facilitates fast color changes
Improved cycle times when robotic assist is available to remove runners
Disadvantages of cold runner molds include:
Slower cycle times compared to hot runner systems
Increased waste if plastic runners aren't recycled
Hot Runner Molds
Hot runner molds are built from two plates heated by a manifold system. The manifold heats the plastic, and then the mold cavities are filled with molten plastic via nozzles.
While a variety of hot runner systems exist, they can largely be split into two categories: internally heated and externally heated.
Internally heated hot runner systems offer better control of plastic flow.
Externally heated hot runner systems are best for polymers that are sensitive to changes in temperature.
Hot runner systems eliminate runners, so there is no need to recycle or regrind runner plastics.
Insulated runners are variations on the hot runner system which are used for injecting semi-crystalline polymers with low levels of thermal conductivity. Instead of using heat to keep the plastic in its melted state, the insulation on the runners keeps it from cooling.
The advantages of hot runner systems include:
Less waste
Potential for faster cycle times
No need for automation to remove runners
Can handle large parts
The disadvantages of hot runner systems include:
Molds are more expensive to create
Difficult to change colors
High maintenance costs
Higher potential downtime
Often not suitable for thermally sensitive resins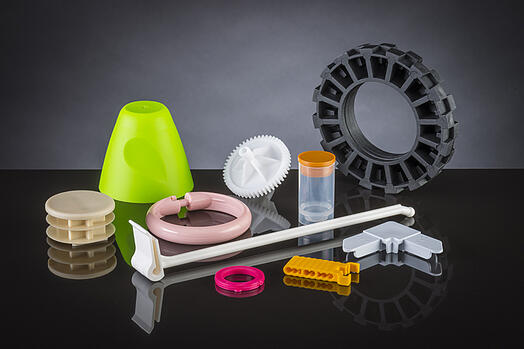 The Rodon Group has been in this business long enough to have worked with, or attempted to work with, molds that were created in Asia (most often, China). Many of these molds are not built to meet strict tolerances, since they don't have to be. As labor costs rise in China, this no longer becomes an affordable manufacturing process. In addition, molds made in other countries are made from lesser quality steel or aluminum. Again, this causes quality issues and shortens the life of the mold. Most high-production molders in this country use only the best stainless steel available for the mold base and cavities. They utilize the latest technology in CNC machining and have seasoned tool makers who know how to create molds that meet the highest performance standards. When sourcing companies, be sure to look for U.S. based manufacturers.
Comparing Quotes
Procurement and purchasing managers have the unenviable task of obtaining quotes from a few injection molders for each project. Depending on the input (in terms of drawings, prototypes or sample parts), the cost quotes can vary greatly. Designers should also look at all of these inputs and determine the best molding solution. They may redesign the part to maximize manufacturing efficiency and increase the number of components that can be made with each molding cycle. Generally, molds made with tighter tolerances, more cavities, and a longer production life will take longer to build and will cost more upfront. The savings with a high-quality mold are long-term. These molds require less maintenance and last longer than lower quality molds.
We hope this overview of key cost factors helps you in getting and comparing quotes for your future projects. Working with a reputable on-shore molder, with a long history of mold building for various industries, is a great place to start your bidding process.
Narrowing the list
With several thousand plastic injection molding companies in the United States, selecting the right molder for your project can be a daunting and time-consuming task. We hope this guide will help you compare and contrast competing injection molding companies and determine the best manufacturer for your next project. If we can assist with your next high volume project, please contact us at www.rodongroup.com The Roden Group, 2800 Sterling Drive, Hatfield, PA 19440 PH: 800-523-8792
Source Destination:
https://www.rodongroup.com/understanding-plastic-injection-molding