Tandem Gravity Flow Racks Help Increase Productivity By 40%
Share:
Posted on Aug 14, 2018
Since 1980 Tandem ESD Packaging Sales has provided their clients with an array of both material handling solutions and static control packaging and Esd materials handling solutions. Over this period of time the company, located North of Boston in Beverly, MA, has consistently met the diverse industrial, electronic, and military requirements by representing leading manufacturers.
If your company is picking orders from inventory on shelves and first-in/first-out is important consider adding gravity flow rack systems . Keneco gravity flow systems allow a greater concentration of product within a defined space and a decrease in time for order retrieval, guaranteeing first-in/first-out. While these storage systems are certainly not limited to product with a definite shelf life, the requirement for first-in/first out product flow, essential when dealing with pharmaceutical and sterile products means greater customer satisfaction, with your company's performance.
Tandem Equipment offers this space saving and first-in/first out gravity flow order-picking rack system from Keneco, Inc. of Kenilworth, NJ. Call Tandem Equipment Sales at 800-696-9169 to make an appointment to determine how these racks will benefit your company. Tandem will quote your rack requirements and installation upon request.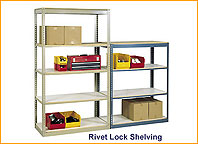 Tandem Esd Sales is an authorized distributor who represents mills who also offer their expertise and the finest quality products to provide complete satisfaction. Tandem represents mills such as Daubert-Cromwell (metal protection papers/films,liquids); Static Solutions Inc. (static control products/meters); 3M Static Control Components; Conductive Containers, Inc. (Esd containers/boxes), Phoenix Benchline (Esd workstations); Lewis Systems (totes,parts bins); Micro-Lite Inc. (microscope & fiberoptic lights/bulbs) and also Protektive Pak (static dissipative PCB containers & holders).
Tandem Equipment Sales is located at 35 Tozer Road, Beverly, MA 01915. Please contact Tandem (John O'Neill) at: 978-927-8745 or visit their web site at: www.tandem-esd.net to request samples, or pricing.