Custom ESD Packaging Products From Tandem ESD Sales
Share:
Posted on Jun 26, 2020
Custom ESD Packaging Products From Tandem ESD Sales
Tandem ESD Packaging Sales (Beverly, MA) has for OVER 40 YEARS provided its customers with full access to quality industrial packaging supplies, static control products and meters, custom foam packaging services and thermoformed Esd plastic trays and containers.
John O'Neill, the longtime principal/owner notes that "Tandem provides a full range of protective packaging products for in-house storage and handling, protective medical packaging for the shipping of delicate components and the CUSTOM DESIGNING and fabricating of static control packaging to protect highly sensitive electronic components. Tandem has both the in-house expertise and industrial packaging skills to service all customers, whatever their specific requirements: medical, industrial or military".
Tandem ESD Sales continues to represent some the most recognizable manufacturer names in their respective industries such as Daubert Cromwell (VCI papers & films)...seen below, Static Solutions, 3M Static Control Components, Conductive Containers,Phoenix/Benchline (workstations), Lewis Bins, Pure-Stat, ESD Systems, Micro-Lite (microscope lighting and replacement bulbs), and Protektive Pak to satisfy and meet all requirements. For the molding of Esd trays and containers we employ Royallite conductive, Zelux static dissipative, high temp (270 degrees F/133C) and static dissipative Lubrizol Stat-Rite plastic sheets, .015" through .080" thicknesses with .040" seeming to be a favorite thickness.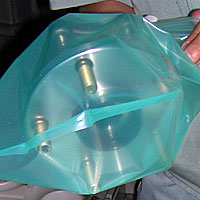 Please do visit the Tandem ESD Packaging Sales Inc. expansive WEBSITE, www.tandem-esd.net, which details many of their services and product lines. Contact Tandem at 800.696.9169/978-927-8745 or email John O'Neill at