Acme Wire Products specializes in precision fabrication of components, parts, and products. While much of the company's work focuses on industrial applications: everything and anything from stainless steel baskets and machine guards to medical carts and frames. They also produce consumer goods, from sporting goods components to custom sink accessories.
Are you looking for custom wire products but do not know where to turn or what terms to type into your search engine box? Do you know whether you need a wire form or a wire fabrication?
A wire form is a part made from one piece of wire – Acme Wire Products uses primarily steel or stainless steel wire. Wire forms can be made by straightening, cutting, chamfering, bending, forming, threading, swaging (flattening), piercing, drilling & milling.
A wire fabrication is comprised of several wire and metal component parts assembled or welded together as a higher level component. Joining methods include welding, riveting, staking, fastening and other mechanical or manual assembly techniques.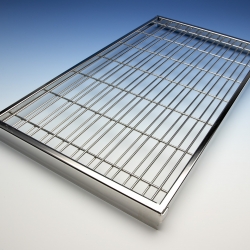 As you talk to prospective manufacturers, here are a few questions to ask to make sure you choose the right one:
What equipment do you use?
This is a great question but it might not tell you everything you need to know. Depending on what you need made, certain machines are better suited for your project than others. Tell prospective manufacturers the details of your project (and send them the print and any particular specs too) and they can advise you if they have the right equipment and know how to produce your parts. Some wire forms can be made with minimal tooling and a few operations – either automated with CNC 2D or 3D forming or via traditional means of cutting the wire & forming with hand benders, air benders or presses.
At Acme Wire Products, we're constantly upgrading our equipment, technology, processes and facility to provide top-of-the-line capabilities for your custom wire fabrication project.
What tolerances can you hold?
Acme Wire Products will work with you to find out what are the important functional areas of your part and how it will be used. Some engineers & product designers may overdesign or over specify tolerances that may not be necessary or could add additional operations, tooling and cost to producing the part. The more information that you can provide will assist us in providing the best part that meets your needs. Sometimes we obtain both a part and a print from a customer & find out that the parts that the customer has been receiving don't meet their print callouts.
Typical tolerances for wire forming are +/-.010 per bend or +/- .060 overall tolerances on an assembly. Other tolerances can be achieved with specialized tooling or alternate processes.
Acme Wire Products reviews the part design to create the necessary features in the custom tooling that will allow us to provide you with the part tolerances required.
What's your average turn-around time?
Depending upon the shops equipment, staff levels, experience and the specs of your specific project you may get a wide range of turn-around times. If the project is a new one, special tooling will have to be designed & built and samples made for customer approval before releasing the project to our production floor. When possible, provide extra lead time for best results. Lead times on recurring projects can range from 2 weeks to 8 weeks depending upon a variety of factors, as listed above.
At Acme Wire Products, we're big supporters of our most valuable asset: our customers. We strive to do everything in our power to meet or exceed client expectations.
What are your qualifications and experience?
When possible, work with a manufacturer who is knowledgeable and knows their stuff. The investment in time and cost in your project can be significant, so make sure you're comfortable with the company you choose as your partner and feel confident that they have the experience and technical skills to complete your project. A low upfront price may lead to costly redesign, rework due to poor or uneven quality or lost opportunities when delivery dates are not met.
At Acme Wire Products, we have been experts in the wire fabrication field for almost 50 years! Continual investment in equipment, personnel and factory improvements ensures that we will be able to handle your specialized requirements. We're planning for the future and looking to supplement our existing equipment and technology with new processes that will enable us to increase our capacity, improve our output and remain competitive as a US based manufacturer.
Acme Wire Products Co., Inc. of Mystic, CT specializes in designing and fabricating custom wire and metal products. As a full service metal fabricator, Acme can utilize materials in addition to and in conjunction with wire, depending upon a customers' requirement. Sheet metal, wire mesh, perforated stock, stampings or tubing are all materials that can be combined with wire to obtain the maximum effectiveness in solving our customer's needs.
Acme Wire Products has designed, recommended and manufactured custom wire components for customers in many diverse markets. We offer the benefit of our almost 50 years' experience in the manufacture of component parts for hardware, medical & lab equipment, cable management, sporting goods, firearms, furniture, guarding, HVAC, pharmaceutical, automotive, optical and food service and processing industries.
Acme Wire's designers work with our customers to create a wire component that will provide the greatest functional value. The design of wire products such as levers, handles, supports, rings, guards, baskets, trays, grids, frames, shelves is limited only by one's imagination (and the limitations of technology).


For more information about Acme Wire Products and the products and services they provide please contact Mary Fitzgerald, President at mfitz@acmewire.com. Acme Wire Products is located at 7 Broadway Avenue Extension, Mystic, CT 06355; tel. 800-723-7015; e-mail info@acmewire.com; or visit the company web site at: www.acmewire.com.
Source Destination:
https://www.acmewire.com/blog/4-important-questions-to-ask-your-wire-products-manufacturer