Acme Wire Products (Mystic, CT) will once again be enhibiting at the New England Design 2 Part Show which is being held on September 27th and September 28th at Royal Plaza Trade Center in Marlboro, MA.
This Show is regarded as the Largest Design & Contract Manufacturing Show in the Region.
SEE US AT BOOTH #254
The President of Acme Wire, Mary Fitzgerald, mentioned that she always looks forward to seeing new and present customers and how many "bring prints, parts, and designs for her to review and quote on".
Whether you need sturdy metal components for OEM equipment or industrial processes, or you are looking for custom wire formed parts for medical or HVAC equipment; the staff at Acme Wire Products can help you with new or existing projects.

Acme Wire Products specializes in precision fabrication of components, parts, and products. While much of the company's work focuses on industrial applications, everything and anything from stainless steel baskets and machine guards to medical carts and frames, they also produce consumer goods, from sporting goods components to custom sink accessories.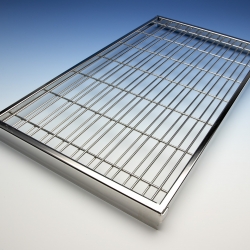 Material expertise includes carbon steel, stainless steel, titanium, Inconel, and Monel - with wire diameters ranging from 0.060 in to 0.50 in. Standard wire diameters are kept in stock for expedited manufacturing, but special diameters and materials can also be ordered to fit any application.

For more information about Acme Wire Products and the products and services they provide please contact Mary Fitzgerald, President at mfitz@acmewire.com. Acme Wire Products is located at 7 Broadway Avenue Extension, Mystic, CT 06355; tel. 800-723-7015; e-mail info@acmewire.com; or visit the company web site at: www.acmewire.com.